If you've been using Twitter the last few weeks, you probably noticed changes to the user interface: larger and lighter buttons along the header, a fresher feel where the and black bar along the cheap nfl jerseys top has been replaced with white, new retweet and "favorite" icons that are reminiscent of the candy you'd eat as a kid. (My favorite change is the new sans-serif font – it gives more breathing space to the page.)
It's clear that Twitter is going for a more inviting design experience. Even more recent at changes that started rolling out today point to a savvier marketing experience, aunque too.
The new Twitter profile view is slowly being rolled out to everyone. Here's what I've observed:
It's not being released based on seniority or age of the account: my newer Tea Voyeur account can view it but not my established HallStigerts.
Twitter is taking cues from other major social networks like Facebook, cheap nfl jerseys Instagram, and Google+ for its design: Larger graphics & text, and more white space. However current background graphics seem to be missing.
The coolest feature: you can pin your best tweet to the top of your profile! This is great for marketing – highlight your recent sale or a photo you're particularly proud of when people visit your profile.
You'll know when you have the new profile view when you see this popup: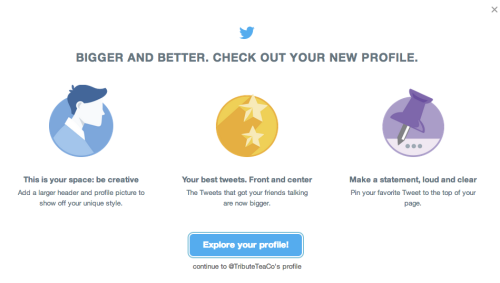 Bigger and better. Check out your new profile.

This is your space: be creative. Add a larger header and profile picture to show off your unique style.

Your best tweets. Front and center. The Tweets that got your friends talking are now bigger.

Make a statement, loud and clear. Pin your favorite Tweet to the top of your page.
What this means for your Twitter marketing
Update your header image (that one behind your profile image). Make sure it's a high resolution because it's going to get stretched and pixelated if it's not big enough: 1500 x 500 pixels, maximum file of size of 5MB. (Thanks to Erica McGillivray for finding the image specs!) Have it reflect your brand but don't overwhelm your Twitter profile with spammy text and icons.

Take advantage of the "pin" feature. Pin a tweet to the top of your profile to highlight do your latest blog post, promotion, or event. (Don't forget to include an image for more visibility!)
Driving traffic to your profile page will be even more important. Just like all tweets (unless they're paid promoted), your pinned tweet will fall down your followers' feeds as it ages.
Background images are disappearing. As of now, it looks like the background images will no longer exist. (Perhaps because wholesale jerseys it overwhelms the new layout.) If you have branded marketing on your Twitter background, update your header and profile images accordingly.
Can you see the new profiles yet? How do you plan on integrating them into your social media marketing plan?