Well, my MozCon 2014 notes might not have everything MozCon had to offer: the energy, the faces, the drinks, the Roger MozBot plush toy. You can't really get the full MozCon experience unless you ATTEND MozCon. (Buy your discounted tickets for MozCon 2015 now!)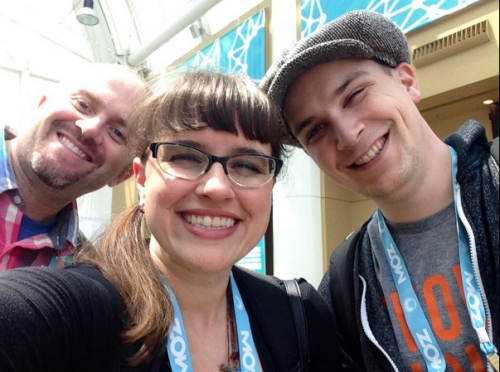 Zeph Snapp, Joel Klettke, and I exercised our NAFTA rights and freely traded smiles and hugs.
But what my MozCon notes do offer are a detailed summary of every presentation in an easy-to-read format. (Thanks to my sixth-grade teacher Ms. Neal for imbuing me with excellent outlining skills.) However, this 15,000-word document is not a transcript of the presentations. I wanted to distill my understanding and give the pertinent details that you might have missed when viewing the slide decks alone.
I was inspired to experiment with live notes after witnessing Content Harmony kill it last year with the format. Twitter is my default event platform of choice but I find the 140-character limit + fast-and-furious hashtag tracking unfulfilling. Perhaps a blank canvas and one-way input would sharpen my focus and let the details flourish.
Here's what I learned from live notes
A live audience sharpens your focus.
At previous events I tuned out during the presentations that were not relevant to me. When you have a live audience that comes to expect the notes, you write the notes. When you're tired in the morning and tempted to sleep through the alarm, you get moving for the people you're rescuing from "Fear of Missing Out" syndrome.
Speaking of late…
Have a backup plan.
Stuff goes wrong when you're doing it live and lots of people notice. My bus got stuck in a traffic accident backup on the way to MozCon and I wished I had someone ready to fill in.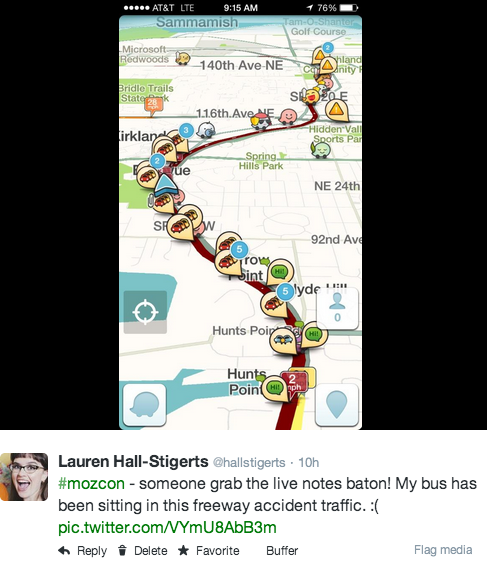 But not all was lost!
If you create something useful, your audience will support you.
A few people following along offered to share their recordings so I could catch up. Super nice! I wasn't expecting that, but then again, this is MozCon.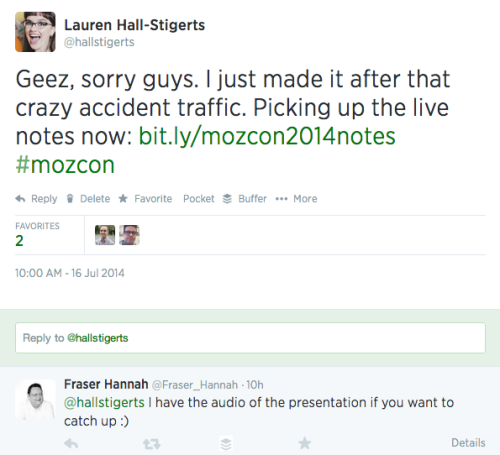 I can't believe how many supportive people there were behind my live notes–my expectations were exceeded. Many commented that they were the best notes of the conference, people approached me at the evening events to say they supplemented their own notes with mine, and even those who couldn't make it out to the event said they felt like they were in the same room with us.
Good notes get the details. Great notes are well organized. The best notes require critical thinking.
It's long work to transcribe a presentation word-for-word. It's hard work to process what you're hearing, translate into simpler terms, and record its essence. Not everything needs to be written down–but everything should be considered. Live notes were a challenging exercise in critical thinking on-the-fly.
As a result, I can say that I have never learned (and digested) as much information at an event than I did at MozCon 2014.
So here they are – I hope you will find added value in what I distilled from this year's MozCon experience. (Note: click on the dropdown arrow and select "fit" for a better view.) I'll be updating this document so it's easier to browse.